Hardeners for unsaturated polyester resins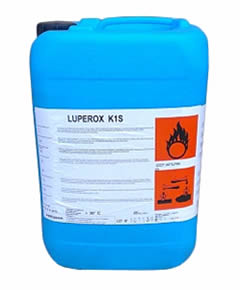 Hardener Luperox K1S
Luperox K1S hardener is used to cure unsaturated polyester resins and gelcoats / topcoats at ambient temperature.
Suitable for manual laying, spray application, winding, centrifugal casting, polymer concrete and artificial stone production, etc.

Hardener Luperox K12 G
Luperox® K12 G does not contain methyl ethyl ketone phthalate and peroxide.
In ortho- and isophthalic resins, Luperox® K12 provides long-term gelling and is therefore particularly recommended for the production of very large castings at elevated temperatures in the work area.
Due to its specific formulation and low hydrogen peroxide content, Luperox® K12 G is well suited to cure a wide range of vinyl ester resins without foaming.
Hardener Luperox K3
Luperox ® K3 is an acetyl acetone peroxide used to cure unsaturated polyester resins at room temperature in combination with a cobalt accelerator.