Individual protection means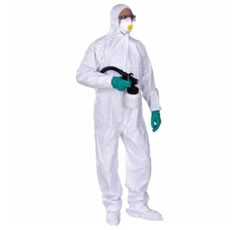 We offer practical and comfortable workwear, as well as auxiliary accessories for working with all kinds of materials that have a negative effect on the human body and, when interacting with which, you must follow certain safety rules.
Personal protective equipment has been developed for:
reliable protection against hazardous factors present in production
high level of comfort
simplicity and ease of use
Venitex Jumpsuit
The main characteristics of Venitex:
Style: jumpsuit
Suit type: chemical protection suit
Brand: Venitex
Gender: unisex
Specifications and equipment are subject to change by the manufacturer
Respirator half mask 3M 6200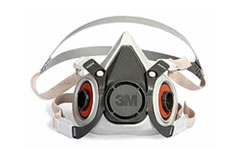 The main advantages of the 6200 series half masks are comfort of use and high reliability. The simplest design does not interfere with the view and does not create any particular inconvenience during work.
The respirator is made of high quality plastic and elastic elastomer. Thanks to this combination, the half mask fits snugly to the face, preventing damage to the respiratory system and, subsequently, prevents the development of diseases of the respiratory system.
The main advantages of a respirator 3M 6200
Due to the peculiarities of the material from which the half mask is made, it can be washed in warm water.
The respirator fits snugly with the front part, which prevents the penetration of harmful gaseous substances.
The quality of the materials used for the manufacture determines the long service life of the product.
Filters are very easy to change, no special knowledge is required, and the respirator is very simple and comfortable to use.
The low weight of the respirator allows it to be worn throughout the entire work shift without feeling discomfort.
Prefilters 3M 5911 P1
Prefilter 3M P1 5911 is designed for additional completing of 3M gas filters in the presence of solid and liquid aerosols (dust, fog, smoke) in the air.
Prefilter 3M P1 5911 is used in metallurgy, construction, mechanical engineering, oil and gas, mining, nuclear, chemical, and food industries, in agriculture, their most common use in painting (spray paints, primers).
Pre-filter holder 3M 501
Designed for the simultaneous installation of both gas and dust filters, which provides a much longer service life. In conditions of constant stay of the employee in places with increased air pollution in the working area. On average, this combination of two types of filters can increase the effective work up to 10 times.
Specifications:
pair accessory for half masks 3M
suitable for filters series 5000 and 6000
can be used with full-size masks and half masks for combined protection against vapors and gases
Filter 3M AVE 6057
The replaceable filter is mounted on a 3M 6000 or 3M 7500 series mask using a bayonet mount.
Protection against organic, inorganic, acid gases and vapors.
Light weight, comfortable balanced design.
The plastic housing protects the filter when used in harsh environments.
Mounted on a 3M 6000 or 3M 7500 series mask using a bayonet mount.
Properties:
protection against organic, inorganic, acid gases and vapors
Latex gloves Sempercare
Sempercare latex non-sterile medical examination gloves are recommended for medical examinations and laboratory tests that do not require sterile conditions.
Properties and benefits:
Gloves are made of natural high quality latex, are highly durable and elastic, retain their original shape well.
Latex gloves MEDICARE n / s inspection
Features: soft, micro-rough gloves with a durable base and high tactile sensitivity to reduce hand fatigue while working. Designed with hands in mind, curved fingers, micro-textured surface.
Composition of the latex mixture: natural latex, sulfur, zinc dibutyl dithiocarbamate, zinc diethyldithiocarbamate, zinc oxide, phenol stearate, titanium oxide, lauric acid, calcium (no addition of thiuram or mercaptobenzothiazole).
Anti-static wipes are also available.