DIAB brand PVC foam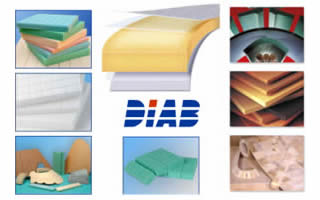 A group of PVC-based foam sheets, trade mark – Divinycell H, is used as a core material for the production of strong, rigid, lightweight sandwich structures.
Sandwich structures (structures) – a class of composite materials, consisting of the following elements:
two thin durable facing plates – cladding

thick lightweight PVC foam core (Divinycell type) separating the load-bearing plates and distributing the load between them

adhesive layers that bond the plates to the PVC foam core and transfer the load from the core to the facing and vice versa
The entire line of Divinycell H PVC foam has a high strength / weight ratio, exceptional dynamic strength, excellent insulating properties. PVC foam has a closed cell structure, which makes it waterproof.

PVC-BASED FOAM
Benefits: 
high strength / weight ratio

resistance to dynamic loads

self-extinguishing

reduced water absorption

full compatibility with fiberglass

freedom in product design

flexibility in production
These properties provided a competitive advantage of PVC foam over other materials used in the production of sandwich structures (for example, balsa) and led to the widespread use of Divinycell H PVC foam, primarily in shipbuilding, automotive, power engineering (wind generators), aircraft construction and allow the use of PVC foam. Divinycell H in sandwich structures where strength, rigidity and low weight are required.
DIAB material classification
Kind
 
Description
Manufacturing process

Simple sheet

PSC

Manual lamination. Working in closed forms. Pressing.

Flexible sheet with pre-cut cells on glass mesh

GSC

For laying on curved surfaces, PVC foam sheets with cut cells are intended, to ensure the integrity of the sheet, a fiberglass mesh is glued on one side.

Manual lamination.Working in closed forms

DCC

Sheet with double-sided slots in two directions with a depth of 55-60% of the main thickness. The slits create a slight flexibility in the sheet.

Manual lamination. Working in closed forms

Perforated

PFC

Perforations in a sheet with a diameter of 1.6 mm to 3.2 mm, depending on the main thickness and density of the sheet.

Manual lamination. Working in closed forms. Pressing

Corrugated

GRC

Corrugated surface with grooves accessible from one or both sides and in length and width indications.

Combination of corrugated and perforated surface.

GPC

Corrugated sheet with perforations on one side (diameter 2mm in recesses). Dimples are available in length and / or width with 20mm spacing between dimples.

Special thickness

TC

Target thickness specified by the client with ± 0.25mm tolerance

Working in closed forms

Pressing
MORE DETAILS